BioArt - Painting with Life
Developments in biotechnology have enabled artists to experiment with living tissue, bacteria, and life processes in ways that can be either beautiful or creepy-cool in a Frankenstein kind of way. Bioart engages scientists in close collaboration with artists to create artworks that raise thought-provoking questions about life, culture, and the ethical implications of using living material for social or aesthetic exploration.
Pure "BioArt" tends to involve more direct interference with living organisms, such as utilizing genetic engineering to create living works of "transgenic art." A wide range of works fall under the category "BioArt," which was coined by artist/scientist Eduardo Kac, the creator of the glowing GFP Bunny. It ranges from beautiful artworks involving softly glowing fluorescent bacteria, to grotesque masses of engineered tissue. For an interesting example check out "bulletproof skin" made out of silk and human skin cells, a collaboration between Dutch Artist Jalila Essaidi and researcher Randy Lewis. Using living forms as art is not a new phenomenon, yet it has traditionally taken more "natural" forms such as the delicate, mutilated bonsai tree, or occasionally extreme practices of animal or plant breeders who wish achieve certain aesthetic ideals. Digital technology has enabled artists to use living forms to a variety of ends. See Phonofolium for a beautiful exploration of life, music, and electrical energy flow.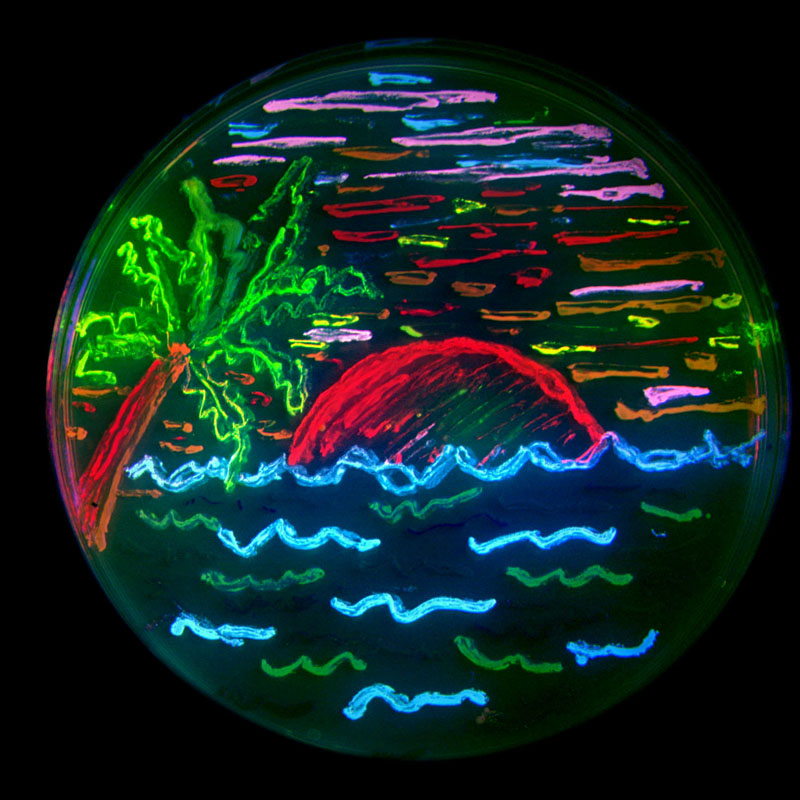 The aesthetic possibilities of bioart expanded when Roger Tsien's team of scientists painted an island sunset with bacteria infused with fluorescent proteins, which evidenced the versatility of the medium as well as the limited art skillz of biochemists. Fluorescence occurs when a substance absorbs light of one wavelength then emits it in a different wavelength. It's the same principle fluorescent lights are based upon, though in this case the fluorescence was first isolated from a jellyfish (Aequorea victoria). Tsien was awarded a Nobel Prize in chemistry in 2008 for his discovery of the green fluorescent protein (GFP). The whole spectrum of colors is now available, making this medium more similar to traditional paint pigments than to some more monstrous BioArt creations. In addition, there are a number of fluorescing transgenic pets available. In addition to the standard transgenic mice (dubbed NeonMice), an individual can purchase green-fluorescent pets such rabbits, pigs, fish. More recently, fluorescing cats were engineered to be resistant to FIV and possibly advance AIDS research.
The brainbow currently ranks as my favorite example of bioart. Created by scientists at Harvard University to allow them to visualize neural circuitry, the brainbow is not only colorful (which gains it points in my eyes) but also involves brains (Halloween candy for zombies). Scientists splice in genes that code for flourescent proteins. These manifest in a rainbow of different colors, allowing individual neurons to be distinguished from their near neighbors. The transgenic brainbow mice thus altered enable scientists to construct maps of neural circuitry and the relationships between different brain regions. The advancement of bioengineering technology has led to the creation of fields which have revolutionized science. For example, optogenetics - in which light-sensitive neurons in genetically engineered animals can be turned off and on using fiber optics - was chosen as the Method of the Year in 2010 by Nature Methods and allow neuroscientists unparalleled access into the inner workings of the mind. Yet some may still say that painting with life is a task more suitable to deity than man.